Thunder Fishing is a fish shooting game that lets you explore the beautiful undersea world. This NetGame release combines the fun of playing a classic arcade game with the chance to win prizes by catching different fishes.
What sets it apart is its great audiovisual design. That's all for show; the main goal is to catch as many fish as possible to get rewards. In-game bonuses like Lava Strike, Bonus Wheel, and Fishing Rush can also reveal hidden treasures throughout the game. But the developer came up with new ways to keep players interested by including Thunder Gods. These have potential payouts of up to 2500x the bet.
You can play Thunder Fishing on your PC or mobile device at top sweepstakes casinos. Read on if you want to learn everything, from the gameplay to helpful tips on how to get the most out of the game.
⚡Thunder Fishing
🏛️Developer
NetGame Entertainment
👨Number of Players
4
🔢Tables
12
📈Volatility
Medium
🎁Bonus Features
Lava Strike, Fishing Rush, Deep-Sea Bomb, Bonus Wheel, Game Machine, Monster Hunt, Bosses features
💰Maximum Win
2500x
🎰Available at
TaoFortune, NoLimitCoins, Funrize
Thunder Fishing Online Sweepstakes Casinos
No online casino provides access to the Thunder Fishing game online; yet, sweepstakes casinos do. The best NetGame powered sweeps cash casinos, available across the US, that feature this fish thunder game are:
What is Thunder Fishing?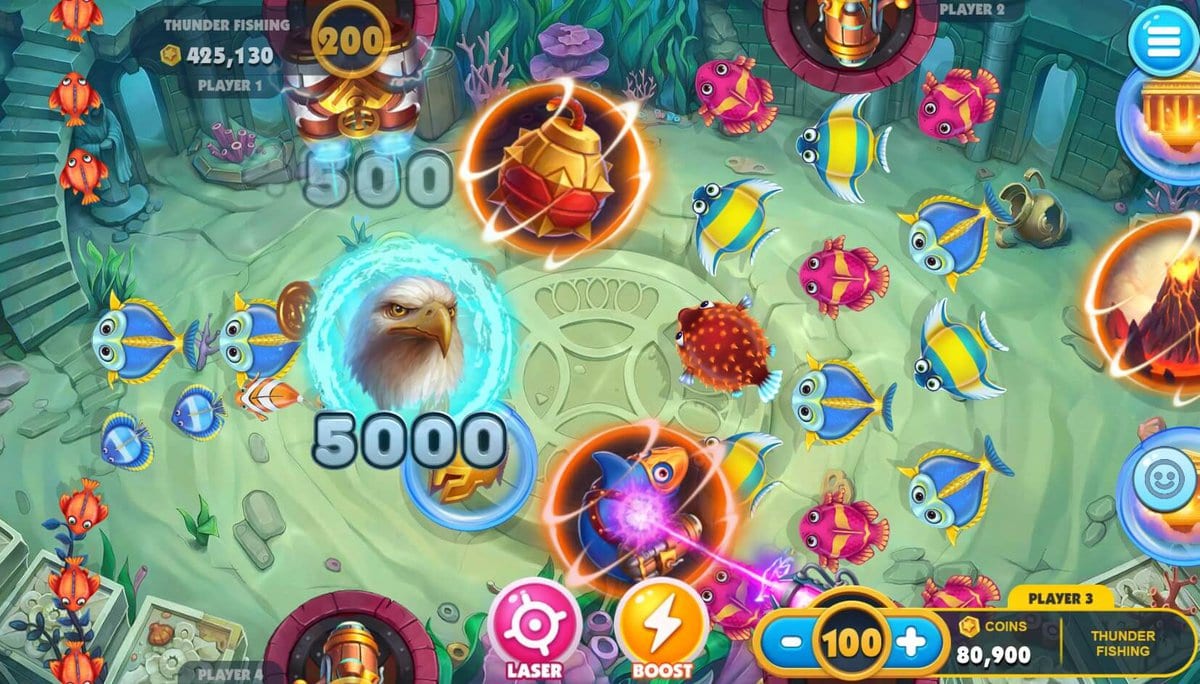 As casino gambling is becoming popular in the US, operators are discovering creative ways to keep players interested. Casino fishing games are a great addition to the casino industry. These games offer exciting opportunities to enjoy skill-based gambling. If you're unfamiliar with online fish shooting games, don't worry; getting the hang of them is really simple. You have to control a gun and shoot at different types of fish to win prizes.
Thunder Fishing is a skill-based game that differs from typical slot machines as you do not need to spin reels to win. Instead, it will take you close to the sea floor with vibrant creatures moving in all directions. It's up to you which one you want to catch as each fish has its own prize. You'll also enjoy many bonus rounds that provide even bigger wins, which we'll discuss in detail below.
Visually, the developer put in a lot of effort, and the setting looks like the mythical underwater domains of Thunder Gods. This game has 12 tables to play on, each table allowing up to 4 players at once.
How to Play Thunder Fishing Real Money

Playing this Fish Thunder Game online is fun but requires focus as it relies on your shooting skills. Before you begin playing, you first have to register at one of the listed social casinos. We recommend legit and trusted online sweepstakes sites like Funrize and TaoFortune Casino. These sites also offer free sweep coins bonuses to get started on the fishing adventure.
When you launch this fish game online, it presents 12 rooms to join. Select one of the rooms to explore the appealing underwater world. Once you're in, you'll see many fish species and other floating symbols on the screen.
The first step is to adjust your bet using the +/- buttons around your cannon. Each room can fit four players, and each player's gun resides in the screen's corners.
After you've set the bet, you have to click on the fish you want to catch. But remember that each shot costs money, so avoid firing randomly to prevent blowing your cash.
You can also use the Laser option if you don't want to shoot manually. It locks onto any fish with the Laser and automatically fires on that fish until it gets captured or swims away.
Also, there is a Boost button that, when activated, costs 2x coins. It upgrades the gun and improves your chances of catching fish and other bonus icons.
Lastly, you'll see a menu button at the top right corner. Here, you can get all information on the game's payouts and bonus features.
You can play Thunder Fishing with gold coins if you want to practice and get the feel of the game before playing for real money. Also, with sweepstakes casinos, you can win real money without making any deposits. You only need to verify your account and get promotional credits that you can redeem for real money prizes if you kill enough fish while playing with sweeps cash.
Thunder Fishing Game Paytable

The payout mechanism in the Thunder Fishing game offers an exciting selection of rewards for players to pursue. Players can shoot and capture different kinds of fish species to receive prizes. Each fish has a different value, and the goal is to catch as many high-value fish as possible.
But the surprises don't stop there. You'll also see many special symbols drifting across the screen among the beautiful aquatic life. These symbols have the potential to bring in even bigger payouts. Let's take a look at the paytable to see how much each icon is worth here:
🎣Thunder Fishing Game Paytable
Buffalo
100x - 200x
Temple
50x - 150x
Hawk
20x - 100x
Warrior Helmet
10x - 50x
Shark
120x
Stingray
80x
Hammerhead Blue Shark
60x
Devil Fish
50x
Puffer Fish
40x
Gold Fish
10x
Yellow Fish
8x
Ornamental fish
6x
Nemo
5x
Tang Fish
4x
Blue & Orange Fish
3x & 2x
Thunder Fishing Special Features
You can unlock many bonuses in the Thunder Fishing Game by hunting special bonus symbols. You'll enjoy nine different in-game features, including some fun mini-games like Bonus Wheel and Game Machine. On top of that, three powerful Bosses will also join you to get higher rewards.
In-Game Features
You will likely come across bonus icons like Lava Mountain, Bomb, Wheel, Drill, and more. Each of these offers different benefits when successfully captured. Here's what these in-game bonuses have to offer:
Lava Strike: With any hit, you can trigger this special power. Then a blazing lava wave emerges, delivering a hefty 300 to 500 hits in total.
Guardian Fish: You can summon the Guardian Fish with any hit that will randomly attack objects. It can result in between 150 and 450 hits.
Deep-Sea Bomb: The deep sea bomb gets activated in the same way as the above features. The bomb explodes here, striking all objects inside its kill zone. This potent underwater explosion can deal 75 to 150 total hits.
Game Machine: It's a typical slot machine game where the reel symbols decide your prize. You can win from 5x to 1500x if you get specific combinations here.
Wheel: Any hit can activate the wheel bonus, which decides the award based on the inner and outer areas. Depending on where the wheel stops, you can win rewards ranging from 50x to 2400x your stake.
Piercing Drill: Your weapon changes into a drill machine in this feature. You select the shooting direction, and it deals 150 to 300 hits to all objects in its path.
Super Laser: Like the drill feature, your weapon now upgrades to a super laser. Aim it in the suitable direction, and the laser will deal 100 to 300 hits to all objects in its powerful beam.
Monster Hunt: This feature will take an exciting twist as each fish grows in size, accompanied by increasing rewards.
Fishing Rush: Fishing Rush is a unique event that occurs randomly. Here, all fish float in groups, making it easy to catch fish.
Bosses Features
You can even go after bosses in the Thunder Fishing casino game. If you successfully capture these Thunder Gods, you will witness their powers and get rewarded with big prizes.
Buffalo
The Buffalo is the ultimate high-paying target in the Thunder Fishing shooting game. It will sometimes run across the screen, and if you catch it, you can win big prizes of up to 2500x. Your initial award of 100x will get multiplied by a random value (2x to 25x), making this a potentially rewarding experience.
Zeus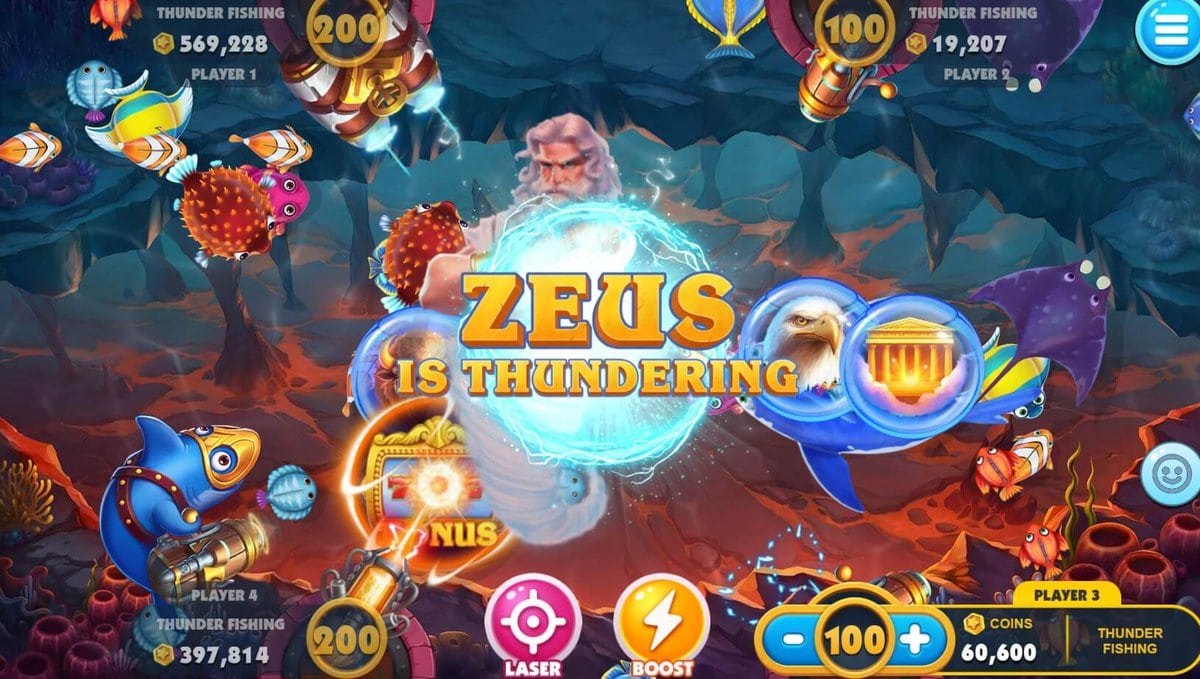 Every shot has the chance to catch the great Zeus God and award you a 300x reward. But wait, there's more! Zeus also brings his thunderous strength, releasing a Lightning Blast capable of dealing 200 to 600 hits on everything in its path.
Thor
The mighty god Thor also provides the same benefits of a 300x reward and 200 to 600 hits. The only difference is that he invokes a Lighting Storm with his legendary huge hammer.
Jackpots
The game also offers jackpot rewards, including Red, Silver, Gold, and Diamond. You can win the Red or Silver jackpots when playing with five or more coins. Playing with 20 or more coins provides you the chance to win the Gold and Diamond jackpots at any point during the game.
Thunder Fishing Tips & Tricks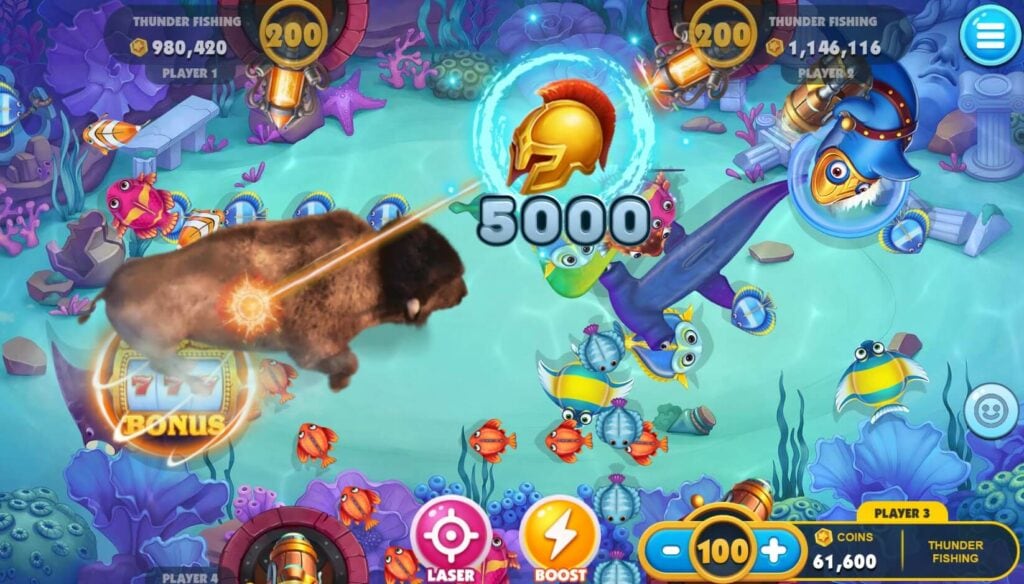 Fish games depend on luck and skill, but there are several strategies to boost your chances of winning. While these tips don't guarantee wins, they can help you get closer.
If you're new to fish shooting games, always start with small bets. Going with smaller bets boosts your chances of winning and makes the game enjoyable. As you gain experience, you can increase your bets for even greater potential rewards. Taking it step by step is a wise way to approach the game.
Responsible bankroll management is also essential in fish shooting games. Set a budget for your gaming sessions, set your spending limit, and stick to it. Furthermore, be smart with your shots, as each shot you take with a weapon is a bet.
Another helpful fish game strategy is to aim for consistency rather than bigger wins. Trying to score huge wins all the time may succeed occasionally, but the reality is that it frequently leads to disappointment. Consider taking a long-term strategy and aiming for small but consistent wins during your games.
In fish shooting games, knowing the speed and worth of each fish is critical. While aiming for faster fish might be exciting, they are also hard to strike. As an alternate strategy, you can go after the slower fish. They might not deliver huge wins, but this strategy lets you manage your bankroll more efficiently and slowly build up your winnings.
Use the auto-aiming to effortlessly catch fish automatically by just clicking on them. Also, look out for special icons that give bonus awards to boost your wins. It may be costly, but it can end up in large payouts.
Thunder Fishing Final Review
Thunder Fishing is a fish shooting game that combines fishing with the excitement of an arcade game. Thanks to the game's superb visuals, you will truly feel as if you are deep in the seas with different scenery. It's a multiplayer game, so you can experience the thrills with your friends. Each fish species has a distinct value, so deciding which ones to target becomes significant.
This game can reward you in every corner due to features like Game Machine, Monster Hunt, and Thunder Gods. Whether you're hunting big fish or bonus symbols, the payout will make the game rewarding for everyone. So, get ready for an electrifying encounter and claim epic rewards in the presence of the Mighty Gods.
FAQs
How much can I win at the Thunder Fishing Game?

All fish shooting games require you to target any fish and kill it to win. The Thunder Fishing game offers a max win of up to 2500x your bet. It is possible if a buffalo appears on the grid and you catch it.

Can I win real money at Thunder Fishing online?

Yes, when playing Thunder Fishing online, players can win real money. All you need to do is register and verify your account at any listed social casino. Doing this will award you sweepstakes coins, which can be exchanged for real money.

Do I need to download the Thunder Fishing app to play?

No app is required to play the Thunder Fishing game online. You can play it at our recommended casinos on all mobile devices. These casinos provide a user-friendly interface that effectively adjusts to small-screen devices.

Can I play the Thunder Fishing game for free online?

Yes, you can play a demo version of Thunder Fishing online. We recommend you play the free version before gambling real money. It's an ideal way to learn about the pace and rewards of each fish and have a solid understanding of how the game works.

Who created Thunder Fishing?

NetGame Entertainment created this stunning underwater casino game. They are experts in creating online casino games that look great, have lucrative features, and are enjoyable to play. The firm is also licensed by reputable authorities to ensure its games meet all relevant standards.

Are there other games like Thunder Fishing?

If you enjoy fish table games, you should try Thunder Dragon, which can fit up to eight players. The Lightning Fish species, like Flying Fish, Butterfly Fish, Clown Fish, and many others, are the game's major attraction. Buffalo Thunder is another excellent option. Here, bosses like the Almighty Octopus, Super Bomb Crab, Roulette Crab, and Darkness Monster will arrive to provide enormous winnings.